Abel & Cole
What's the deal?
Abel & Cole are all about organic food, working with farmers to deliver seasonal boxes on a regular basis to your door. There are fruit and vegetable boxes and also recipe boxes which come with instructions and weighed out ingredients, in order to avoid waste.
Where do they deliver?
The UK. Enter your postcode to check availability in your area.
How good is the food?
This one is top of the pack. The food is incredibly fresh and well sourced. Recipes and smoothie boxes change on a weekly basis, catering to different tastes and dietary requirements. The menu we picked over January included parsley and lemon crumbed salmon with chips and also grilled greens with garlic yogurt and couscous – they were all excellent. Whether it's organic butter straight from the farm, or freshly picked raspberries for your smoothie – the attention to detail and quality of the food is exceptional. It will really make you reassess your daily shop.
How healthy do you feel?
A few smoothies down and a recipe box later you'll be doing Rocky montages up and down the stairs.
How much does it cost?
A weekly smoothie box is £15.95 for three different smoothies (they make two glasses each). One recipe box is around £13.
Who does Abel & Cole work for?
Those looking to get more inspiration into their day-to-day cooking without compromising on quality.
Via abelandcole.co.uk
Riverford Organic Farmers
What's the deal?
Riverford's weekly recipe boxes with seasonal recipes, feature organic produce, with step-by-step instructions. They deliver exact quantities of everything you need, so there's minimal to no waste from cooking. Each recipe is fresh, organic and serves 2 people.
Where do they deliver?
Most of the UK. Fill in your postcode to see if you're accepted for delivery, if not you can fill in a form for their consideration.
How good is the food?
Excellent and exceptionally fresh. Each recipe ranges according to taste: simple, light or foodie with separate cuisine types: vegan, vegetarian, meat and prime cuts. Dishes such as the zingy courgette and chili pasta, to the Italian ragu and Romanesco broccoli are particular highlights.
How healthy do you feel?
Popeye levels of healthy. Each dish is varied and balanced. Healthy, without feeling punishing.
How must does it cost?
Each recipe box ranges in price. From £11.20 per meal for two (for vegan), to £15.70 per meal for two (for prime cuts)
Who does Riverford Organic work for?
Busy people, done with Deliveroo, who don't want to compromise on the quality of their food.
Via Riverford.co.uk
Springbox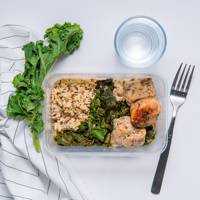 What's the deal? Springbox is a keep-it-simple food delivery service with nutritious and balanced meals cooked by Michelin-star chefs best used as a healthy back-up option to fill in the gaps when you can't be bothered to cook.
Where do they deliver? Springbox delivers to the whole of the UK.
How good is the food? The meals are consistent and well prepared, there's plenty of variety in the menu and the ingredients are of a high quality. It's worth remembering that this is a frozen food delivery service – if you're looking for refrigerated delivery services look elsewhere – but if you need the convenience of frozen food which you can reheat whenever you like, you can't go wrong with Springbox.
How healthy do you feel? We were using Springbox to try and lose weight, and we achieved over a stone of weight loss over three months in part thanks to the Springbox meals. It's very useful having a healthy, filling meal available at all times so you don't stray.
How much does it cost? Springbox meals range between about £6 and £9 per meal depending on how many you order and how regularly you pay.
Who does Springbox work for? If you've already got a healthy diet, cook your own meals regularly, or eat out often, Springbox is a great supplementary option to fill in the gaps when you can't be bothered to cook.
via Springbox
The Pure Package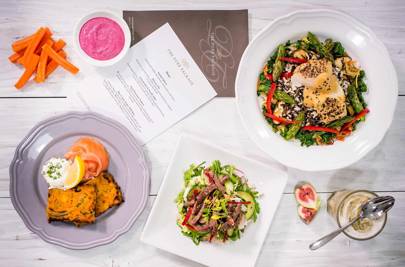 What's the deal? The gourmet cousin of the delivered-to-your-door diet plan family. A variety of menus are available for a variety of goals, including weight loss, training support, detoxes and a "Japanese Body Boost". Not sure which one is for you? The Pure Package also provide an individual consultation with a nutritionist to tailor your diet to your exact needs.
Where do they deliver? The Pure Package is London based only, with a few postcodes outside the M25 also included. Give them a call if you're not sure.
How good is the food? As advised by the nutritionist, we tested out the Paleo Inspired diet plan, nutrient dense and low carb. In general, the meals are excellent. The crayfish, red pepper, cauliflower rice and coriander salad was packed full of crayfish, which soothed a carb-fiend's shock at finding that the cauliflower rice wasn't actually rice. The dinners are also fabulous, generous portions packed full of veggies and meat – all the good stuff, no filler. The portions are a little smaller on the breakfast which was surprising, but a good snacking selection makes up for it. The sugar snap peas came with an artichoke and bean dip that we could have eaten by the spoonful, and the package is worth it just for your weekly dose of a quite ridiculously fantastic chocolate mousse.
How healthy do you feel? Pretty clean and lean. A little more peckish on some days than others – craving carves at 3pm on one day, but not feeling the need to eat the afternoon snack on the next. Given a little more time, however, I'd guess that the nutritionist had got it just right as I felt considerably less bloated by the end of the third day and with a tad more energy.
How much does it cost? A fair amount. A full programme (breakfast, lunch and dinner) for 10 days comes out at £44.95 per day. Whack the order up to 90 days and you're looking at £35.95 per day.
Who does The Pure Package work for? Nutrition conscious folk – or those with tricky dietary requirements – looking for a completely personal (and tasty) dietary overhaul.
via The Pure Package
Mindful Chef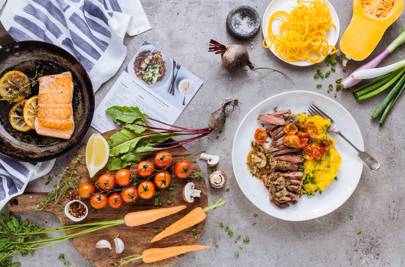 What's the deal? Mindful Chef is from the Do-It-Yourself vein of food delivery services, but with a healthy twist. Recipes and all their constituent ingredients are delivered to your door, with options for 1 person, 2 person or 4 person bundles available. The good-for-you touch? All recipes are gluten free and skip the refined carbs like pasta, bread and white rice.
Where do they deliver? Nationwide, including Scotland, every Monday between 9am and 5pm (the cool bag is designed to keep your food cool for up to 36 hours, if you're lacking a fridge at work). Sunday delivery between 3pm and 8pm is available for those within the M25.
How good is the food? For budding chefs who want half the work done for them, or seasoned cooks who are just looking for a little bit of ease, Mindful Chef has it covered. Eating out of a little black plastic tray can lose its novelty after a while: home-cooked food just tastes better. "Not with my cooking", you say? If your culinary skills are lacking, Mindful Chef recipes are about as fool proof as they come, with all the herbs and spices measured out for you for perfect flavour. With 253 seriously good recipes on rotation, you're not going to get bored any time soon.
How much does it cost? £9 per portion for a 1 person box, £7 per portion for a 2 person box and £6 per portion for a 4 person box.
How healthy do you feel? Your portion control will be on point as Mindful Chef only sends exactly as much as you need per meal (no wastage either). The produce is, as you can expect, as fresh as it gets and organic whenever possible. You know exactly what's going in there, so if you're trying to cut back on salt or the like, you're in control. Going gluten-free is an eye-opener for carb-fiends who need convincing that you can fill up on chickpeas. Your sense of satisfaction is helped along by very generous meat and fish portions – Mindful Chef is full of the best stuff.
Who does Mindful Chef work for? Home-cooking cravers who need a trick up their sleeve to keep their cordon-bleu efforts fresh and fulfilling.
via Mindful Chef
Potage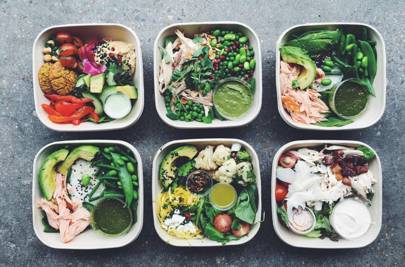 What's the deal? Meals or "pots" delivered to your home or your desk, ordered in advance or on the day (same-day lunch orders before 10am and evening orders before 4pm), regularly or spontaneously.
Where do they deliver? Unfortunately, Potage is just a London thing at the moment, but watch that space.
How good is the food? Very good indeed. Potage's focus is less on dieting, but eating fresh and eating well. All meals are made to order from scratch with seasonal ingredients, with all meat supplied by a single independent butchers and all veggies fresh from New Covent Garden market every morning. The result is a high quality meal, as fresh as it comes. There's not a wilted salad leaf in sight in their gorgeously crunchy chickpea falafel mezze salad, their side pots are perfect as a filling and culinarily exciting snack (courgetti with feta, mint and chilli is our tip) and their hot meals make for an above-average microwaveable meal that tastes homemade.
How healthy do you feel? Well it depends what you order – if you put in a regular delivery of their cookie dough and sausage rolls probably not that healthy. There are plenty of healthy options, but some naughty treats too. Potage are in it for quality rather that calories (or lack of), and if you go for their salads you're getting the best. Eating well without the processed muck is the goal, not obsessing over numbers.
How much does it cost? All this quality costs, with mains starting at £8.
Who does Potage work for? On the go professionals in it for a long term healthy diet, who want homemade-tasting meals without the fuss.
via Potage
Radiance Cleanse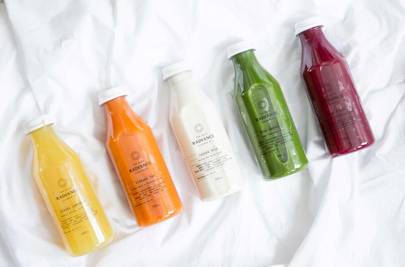 What's the deal? A seriously no nonsense detox. Radiance Cleanse deliver juice cleanse plans to your door – yep, you're consuming nothing but juice for either one, three or five days.
Where do they deliver? Nationwide across mainland UK, with the option of evening delivery instead of morning offered to customers in central London.
How good is the food? Ok, so "food" is a strong word – but the juices are as good as they get. Cold pressed for minimum bad stuff, Radiance Cleanse juices deliver an unfathomable vitamin hit. Choose from one of the company's recommended five or six juice daily plans or build your own – "Vibrant Veg" (carrots, celery, red peppers, apples and lemons) is like cold pressing the Mediterranean and the "Root Boost" (carrots, apples, lemons, beetroot, spinach) feels earthy and wholesome. Sweet tooth, or craving carb? The Cacao Cashew Milk (cashews, dates, raw cacao powder, coconut butter and Himalayan pink salt) is like the frothy chocolate milkshake of your organic dreams.
How healthy do you feel? It's a daunting prospect, but you might be pleasantly surprised – you feel hungry considerably less often than you would expect. Six rather large juices can even be a tall order for slighter appetites. Although admittedly sceptical at first, we found ourselves to feel genuinely more energised, less bloated, a little bit tauter all over after three days – and not even craving a burger.
How much does it cost? Gird your loins, it isn't cheap. A 3 day, 6 juice cleanse is £225.
Who does Radiance Cleanse work for? The already health conscious looking for a feel good boost.
via Radiance Cleanse
The Detox Kitchen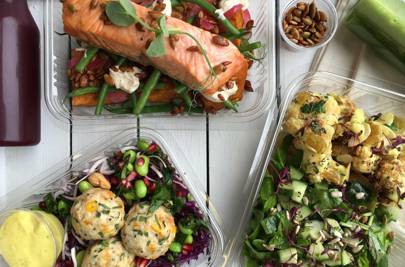 What's the deal? Wheat, dairy and refined sugar free meals and snacks sent in packages with all the sustenance you need to get through the day. Choose from 5 different packages to tailor the day to your dietary needs, or be spontaneous and pop along to one of their delis to pick up individual meals.
Where do they deliver? Only in London we're afraid. Delivery is free for arrival times, between 3am and 7am, but you can pay £10 to specify a delivery between 7am and 9am.
How good is the food? Really, really good. These aren't wimpy, airy salads, but properly filled (and filling) boxes of goodness. Super fresh, well-handled ingredients with an emphasis on taste first.
How much does it cost? Packages start from £28.90 per day for the Vegan and go up to a starting price of £39.95 for the Active Protein packages. Minimum order is 5 packages.
How healthy do you feel? This is less of a diet, more of healthy lifestyle readjustment kick up the bum. The Detox Kitchen gets you thinking about eating well as a given, not as a panic mode after the pounds go on. The Active Protein package (the most generous of the diet choices, with 1,800 calories) is wholly manageable, if you're a hungry sort. They've thought about all the extras too – each package comes with a bag of Pukka three mint tea, a wheatgrass shot and a biocare supplement.
Who does The Detox Kitchen work for? Instagram-versed healthy living converts with a bit of cash to dedicate to eating well.
via The Detox Kitchen
Munch Fit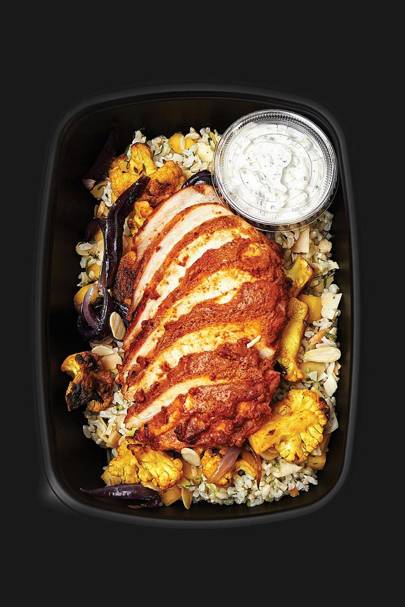 What's the deal? Set up by former personal trainer Angus Fay, Munch Fit is for real foodies who want to hit their fitness goals without sacrificing any of the flavor.
Where do they deliver? Currently only in central London, but that's set to expand.
How good is the food? It's seriously good. Unlike other fitness food delivery services, these are not frozen meals packed with preservatives. Every day a bike arrives at your home or office carrying a cool bag packed with a day's worth of fresh, chef-prepared meals – and there are plenty of options as each day has a meat, veggie, fish, breakfast and paleo choice to select from (plus snacks and drinks too). While the menu options remain the same for three months at a time, the order they arrive in is changed week-to-week, meaning you never get bored – and you begin to get your favourites. We especially looked forward to the protein waffles served with mango & turmeric chia jam, the tangy Vietnamese tuna with buckwheat noodles, and the wholewheat pasta with kale pesto and broccoli. Of particular note was the bonkers-yet-delicious avocado chocolate mousse.
How healthy do you feel? As a formerly fairly unhealthy eater, Much fit was a bit of revelation. Not only did it give me more energy and help me to get quite a bit leaner (with exercise of course), but it taught me that I actually needed to eat more than I used to. And it showed me that healthy food doesn't have to taste like cardboard – quite the opposite.
How much does it cost? For a month, it will cost £10.25 per meal based on three meals being delivered per day. That's about £950 per month – although this decreases if you commit to two or three months.
Who does Munch Fit work for? Active foodie guys who want to take the prep time out of eating well.
Via Munch Fit
Fresh Fitness Food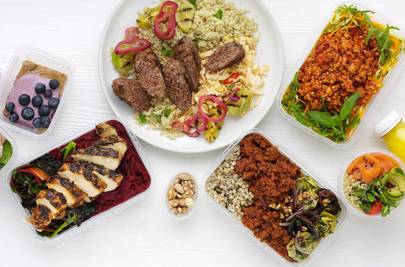 What's the deal? This food delivery service is second to none in the fitness game. Fresh Fitness Food delivers daily meal bags to your door, either to work or home, making it a breeze. Prepared by expert chefs, start by picking your personal goal, then talk to the nutritionist, sort your plan, and sit (or go to the gym) and wait.
Where do they deliver? Within London and the M25.
How good is the food? Fresh Fitness Food offers six package option packages, and the nutritionist consultation means you can tailor you food to the nth degree. If you don't like something in your package, you can tweak it as you go. It's as close you can get to cooking your own dishes, without actually having to cook. Each package has its own aims, from lean gains to fat loss and muscle gain – the list goes on.
How healthy do you feel? I used the service for 3 months, and it completely changed my view on what my body actually needs. Fresh Fitness Food – combined with daily exercise – can make a huge change to your lifestyle.
How much does it cost? From £20.00 per day.
Who does Fresh Fitness Food work for? The kind of person who really wants to monitor their intake. Great if you have a fitness target to reach.
Via Fresh Fitness Food