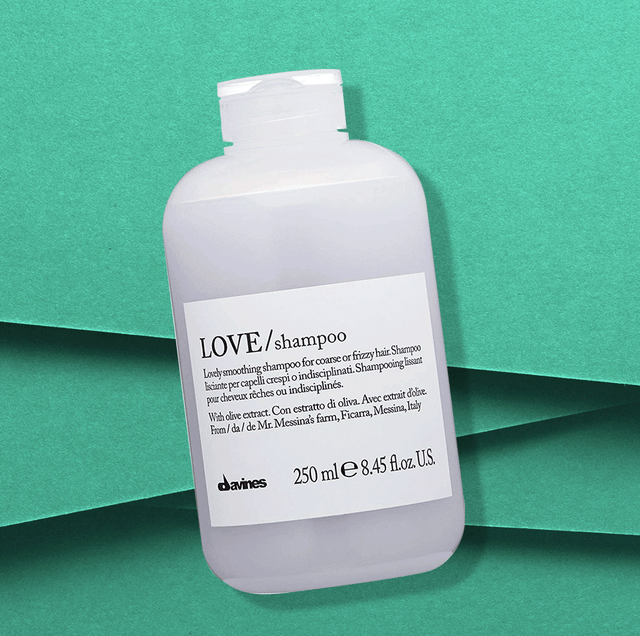 Jewelyn Butron
If you have dry hair, less is more when it comes to washing. "Shampooing too often can dry hair out," says hairstylist Courtney Foster. "So a person that has dry hair can maybe skip shampoo for a day or two. This will allow the natural oils from the scalp to moisturize the hair." If you typically shampoo your dry hair every two weeks, Foster suggests washing once a week instead and see how your hair reacts to the change.
Stylist Nick Kersten of Rob Peetoom Salon in Williamsburg, Brooklyn, agrees: "I always recommend shampooing as little as possible. Some people like to wash their hair every day, but I would advise leaving at least one day in between. If you have dry hair, one wash a week can be sufficient."
But for those times when you really need to shampoo because you've had a serious sweat sesh or piled on loads of dry shampoo, the type of shampoo you use on your dry hair really makes a difference. Look for moisturizing ingredients like coconut and palm oil, vitamin E, and lipids—and avoid parabens, mineral oils, silicone, and alcohol, explains Maree Perrotta, senior stylist at the James Joseph Salon. Foster also likes moisture-driven ingredients like shea butter, aloe vera, jojoba oil, argan oil, and avocado oil.
And while taking care of your external needs are beneficial, Kersten points out that a poor diet can negatively impact hair. "Your food and drinks consumption can also affect dry hair adversely, especially alcohol, which is dehydrating. It is important that you get enough vitamin A, which is found in fish and vegetables," he says. Foster notes that drinking enough water each day along with hydrating deep conditioning treatments is also beneficial.
Now that you have these expert tips, scroll through to see their picks for the best shampoo for dry hair (on any budget).
Advertisement – Continue Reading Below
1
Best Overall Budget Buy
Design Essentials Honey Crème Moisture Retention Shampoo
"It's great for all hair types but works wonders at providing moisture to thick, tightly coiled hair," says Foster. Honey is a natural humectant that retains moisture, and this formula lathers well as it detangles coarse hair, making it easier to comb through while wet.
2
Best Overall Splurge
Christophe Robin Regenerating Shampoo with Prickly Pear Oil
"When products moisturize your hair, it can sometimes look flat and limp, but not with this," says Eddie Parra, stylist at Serge Normant Salon at John Frieda. Prickly pear cactus contains flavonoids, polyphenols, and betalains, which are rich in antioxidants. "I have seen phenomenal changes on my color-treated and curly clients," he adds.
3
Best for Thick Hair
Moroccanoil Moisture Repair Shampoo
"I like this because it smells divine and it moisturizes the driest hair caused by color, chemical treatment, and heat styling," explains Foster. Argan oil, which is rich in antioxidants and Vitamin E, plus four plant extracts (lavender, rosemary, chamomile and jojoba), and cocamide mea from coconut oil all together "leaves hair silky smooth after one shampoo." 
4
Best for Color-Treated Hair
Pureology Hydrate Moisturizing Shampoo
For color-treated hair, you'll need to use a moisturizing shampoo that doesn't strip your dye job, explains Foster, who prefers sulfate-free product for this purpose. Jojoba, green tea, and sage extracts moisturizes the hair while soy, oat, and wheat help repair your strands. 
5
Best Pollution Protection
Oribe Shampoo for Moisture & Control
The combination of watermelon, lychee, and edelweiss flower extracts protect your hair from the elements, sunflower extract adds moisture and protects against sun damage, and amber extract contains antioxidant benefits. "It immediately provides moisture to dry hair like magic, leaving the hair so soft and manageable," says Foster of the keratin-safe and sulfate-free formula.  
6
Best for Frizzy Hair
Davines Love Smoothing Shampoo
"It has olive extract in it, which helps to keep frizz out of hair like no other," says Kersten. Hair is noticeably smoother, more manageable, and shiny. "The most important thing about dry hair is that you use hydrating products. I'm a fan of Davines  because the products are organic and very mild for hair and scalp," he adds.
7
Best for Fine Hair
Kérastase Nutritive Bain Satin Nutrition 1 Shampoo
"It's hydrating but not too heavy, so if you're trying to have a style with volume, this won't weigh your hair down at all," says Glen Oropeza, Kérastase consulting hairstylist. 
8
Best for Normal Hair
Redken All Soft Shampoo
"One of my favorites for normal hair has always been Redken All Soft. It really softens the hair while adding just the right amount of moisture," adds Oropeza. Argan oil hydrates your hair while soy protein seals in moisture in this lightly foaming shampoo.
9
Best for Bleached Hair
Ouai Repair Shampoo
Bleached hair needs extra hydration, which is why Chicago-based hairstylist Alex Brown recommends this "super hydrating" shampoo that "doesn't weigh fine hair down, but softens and helps detangle dry bleached hair." 
10
Best Clarifying Shampoo
Kristin Ess Scalp Purifying Micellar Shampoo
"This is perfect for repairing a dry scalp (dandruff), while hydrating the hair at the same time," says Brown. Every few shampoos, swap in this deep cleaning liquid. Section off your hair and squeeze the clear liquid onto your scalp to help remove buildup.
11
Best for Damaged Hair
Joico Defy Damage Protective Shampoo
Free of parabans and sulfates, this restorative shampoo is all about taking preventative measures against damaged, dry hair. Rosehip oil, arginine, and keratin help strengthen the hair follicles while moringa seed oil, which is rich in vitamins and antioxidants, rebalances and conditions dry hair.
12
Best for Glass Hair
NatureLab Tokyo Perfect Shine Shampoo
As you work this shampoo into a lather, you won't have to worry about stripping your hair's natural oils. Hyaluronic acid, a popular skincare ingredient that is known for its hydrating properties, conditions your hair to prevent your scalp from becoming overly-clean. Plus antioxidant-rich grape stem cells and pearl extract leaves your hair glossy.
Advertisement – Continue Reading Below