As students at the Joplin campus of Kansas City University of Medicine and Biosciences learn about treatment and testing, they have also acted as a test group for Damien Tiregol.
Since January, the owner of Crabby's Seafood Bar and Grill has been developing Cafe Fresh, a food service business that offers freshly prepared, reheatable meals. His clients are composed entirely of KCU students, who can buy one of the meals on campus, even when the cafeteria there is closed.
"They have given really good feedback," Tiregol said. "I've gotten to R&D this thing, and they are the direct market for this type of thing. I've gotten to nail down some recipes they enjoy without a full-scale public release."
As more Americans take on meal prepping in their homes as part of an effort to eat healthier, businesses are starting to follow suit by taking on the preparation. These new businesses do all the cooking and assembling so that a customer can have an easily microwaved meal at their convenience, whether it's for a lunch break or dinner during a busy night.
Open for about a year, WorkFresh is a storefront business for the Fresh Meal Co. From its East Seventh Street location, customers can drop in and pick up a variety of different entrees, including ground turkey marinara with yellow squash noodles. steak teriyaki and honey sriracha chicken.
Those meals are also available at several gyms and workout centers, said owner Jason Williams. He said he's working on expanding to other clients with larger staffs, such as area hospitals.
The business got started by Jon Buck making entrees for friends on a similar fitness regimen. In the year since its opening, its clientele has expanded, Williams said.
"He started out in his house, making food for his workout buddies who didn't want to cook for themselves," Williams said. "It's spread past that crowd into everyday people who just want to eat healthy."
The entrees at WorkFresh feature fresh ingredients without the use of processed sugars or dairy products. Entrees are gluten-free, and specific entrees are tailored for paleo, keto or vegetarian diets, Williams said.
The key is a balance of nutrients, Williams said. Instead of avoiding general substances such as carbs or sodium completely, each entree balances those elements in a healthy way.
"If you don't factor in working out, the food you eat will physically change your body one way or the other," Williams said. "We're trying to serve people who are watching what they eat."
Fit Foods 417 offers a similar service. Owner Tricia Douglas, while working at a gym, saw that while her clients were dedicated to workout regimens, their dedication to proper nutrition diminished.
About five years ago, she started preparing healthy meals for customers in their own homes, but now she uses the kitchen at the Webb City Farmers Market to make entrees. She also prepares meals for some of the market sessions.
Focusing on flavor
A handful of fitness experts, who focus on helping clients meet exceedingly high standards for reducing fat and building muscle, sometimes advise thinking of food as fuel — making it as bland and tasteless as possible, so that you're not tempted to veer from your goals.
That approach doesn't work for prepped meals. All three say that good flavor is a high priority for the success of their ventures.
"I look at food as enjoyment, and most Americans do too," Williams said. "The everyday person wants to eat something that tastes good. That's why our recipes are more geared toward taste without sacrificing nutritional value."
That's done through clever substitutions, Williams said, such as using zucchini noodles instead of pasta and cashew cheese instead of traditional dairy cheese. He, Buck and other staff members are always researching new ideas, heading to various stores for unusual ingredients and preparing samples of future entrees. One of those successes is a paleo-friendly lasagna.
"That's the hardest thing to do, to get a good taste while still being good for you," Williams said. "The food distributors that service restaurants are not prepared for this. They don't have the sourcing yet."
Tiregol uses the same approach, avoiding high-fat ingredients and finding ways to highlight healthy food in familiar dishes. Cafe Fresh's offerings are made with a mentality that, when used on a personal basis, helped Tiregol lose weight — instead of avoiding unhealthy foods completely, he relied on strict portion control.
"Flavor is everything for us," he said. "We want it to taste good, but we want it to be healthy. We don't use a lot of creams, butters or salts, but we don't completely omit them. Just being more portion-controlled is healthier in itself. You can still enjoy good foods that way."
Douglas loves showing people how healthy food can be delicious. She offers more than 800 menu items to fit a variety of tastes.
"People start to look at food as the enemy, and think that if it tastes good, it must not be good for me," Douglas said. "That's not true. Food can taste really good and still be good for you. If you're going on a diet, you can still embrace food and enjoy it."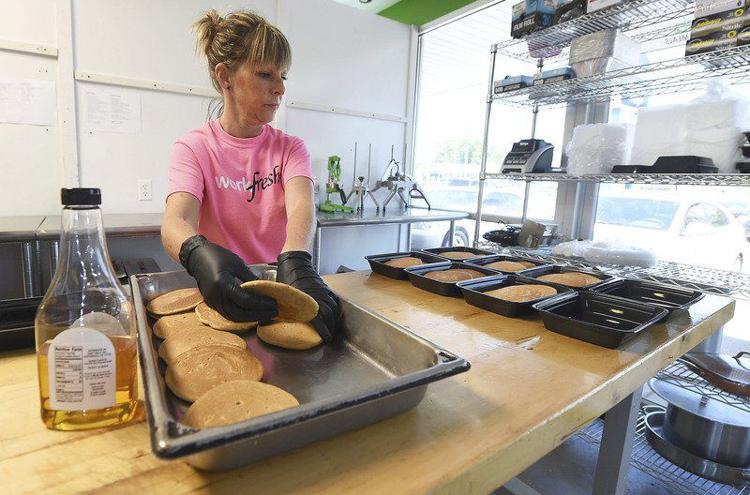 Growing trend
As the trend of meal prepping continues, all three owners said business looks good.
Douglas said she plans to expand into cooking classes for kids over the summer. Her delivery service has already expanded over to Springfield and covers the cities in between, so she hopes to open a second location in Springfield.
Tiregol said he is not yet ready to open the Cafe Fresh storefront, but he has doing so in mind. Once he finds a good location and improves a number of things, he would like to offer boxed meals ready to go.
Williams said as WorkFresh continues to carve a niche with preorders and grab-and-go meals, he'd love to find a way to offer hot food to customers, so that they don't have to head to a microwave.
All three are pleased at the prospect of this trend continuing to rise.
"My wife and I are often thinking about where we can get a quick meal that's healthy, and getting disappointed about the lack of offerings," Williams said. "Maybe we can take some of the business away from fast-food places. We're trying to feed people healthy food, and we are proud about that."