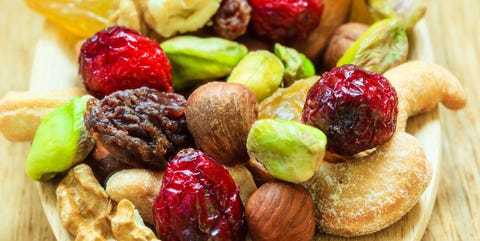 Getty ImagesVoyagerix
For optimal performance, nutritious fuel is of utmost importance for athletes like us. It's key to consume nutrient-dense foods, ones that have the right amount of carbs, fat, protein, and electrolytes to help you power through a challenging ride, explains Leslie Bonci, MHP, RD, CSSD, LDN, a nutrition consultant for the Kansas City Chiefs and Carnegie Mellon University athletics, and author of Bike Your Butt Off. "Energy-dense foods that provide enough calories with minimal volume, such as dried fruit bites or bars, that are not low-carb, can provide the energy needed to fuel a ride or refuel post-ride," she says.
But with all that cycling comes frequent excessive caloric burn, leading to the need for replenishment, as well as the ability to indulge every once in a while. If you have a sweet tooth, need some quick energy during a ride, or want something to replenish with after a tough climb, we've rounded up some healthy sweet snacks to enjoy both on and off the bike.
Advertisement – Continue Reading Below
KIND Minis
$20 for a 30 bar variety pack
This is the mini version of the cult-favorite KIND bar. These bite-sized bars pack a big punch thanks to whole food ingredients such as peanuts and almonds and decadent flavors (think: Sea Salted Carmel and Dark Chocolate Nut). Each one clocks in at just 100 calories or less, no trans fats, low sodium, and high protein. Plus, you get to choose from six different flavors that'll satisfy any craving.
Setton Farms Pistachio Cranberry Chewy Bites
$13 for two bags
The perfect blend of salty and sweet, these chewy bites are the perfect pop-able size. They're individually wrapped, so you can throw one in your jersey pocket, in your gym bag, or stash in your desk drawer. They're also gluten free, vegetarian, non GMO, and have only seven ingredients, all of which you can pronounce.
Optimum Nutrition Protein Cake Bites
$10 for box of 4
Have your cake and eat it too with these sweet, chewy bites that have just 4 to 5 grams of sugar (though they taste like they have more) and a whopping 20 grams of protein. Choose from nine mouth-watering flavors including birthday cake, chocolate mint, red velvet, and gingerbread.  
Blue Diamond Almonds Bold Sweet Thai Chili
$14 for a pack of 12
A little sugar and spice makes everything nice, especially for this Sweet Thai Chili snack. One packet of these rich-flavored almonds is low in sugar but high in healthy fats with 6 grams of protein, making it a well-balanced snack. Plus, the pre-portioned packets prevents you from eating a whole can. 
Lenny and Larry's The Complete Crunchy Cookies
$4.99 for 3-count sample pack
If you're a fan of this brand's "Complete Cookie," chances are you'll love the snack-size crunchy version. Each 1.25-ounce packet contains 6 grams of plant-based protein and 4 grams of fiber, and absolutely no GMOs, soy, dairy, egg, or artificial sweeteners.
Clif Bar Fruit Smoothie Filled Tart Cherry Berry Flavor
$12.50 for pack of 12
Sweet on the outside, tart on the inside, this one adds a fruity kick to your favorite energy bar. It's a great go-to snack to keep you from bonking or to refuel postride.
Quest Nutrition Rocky Road Protein Bar
$25 for box of 12
The newest protein bar variety from Quest will transport the flavor of marshmallows and chocolate to your taste buds. At 20 grams of protein, five net carbs, 14 grams of fiber, and only one gram of sugar, you'll be putting something yummy in your stomach that will keep you full and satisfied. 
Krave Gourmet Beef Cuts Sweet Chipotle
$44 for pack of 8
For another savory sweet option, this chipotle jerky gives you a little kick. Each serving has 8 grams of protein and 12 grams of carbs, making it a great option to replenish after a big ride. Just try not to eat the entire bag in one sitting.
Optimum Nutrition Protein Almonds
$7 for 3
You already know that protein is important for athletes. but you might not know that you don't always have to get it from meat. With 10 grams of protein per serving and less than 2 grams of sugar you can't go wrong with this low-cal snack. Choose from dark chocolate truffle, chocolate jalapeño, cinnamon roll, cookies and cream, espresso, or peanut butter chocolate flavors. 
Advertisement – Continue Reading Below